Rik Rue "Dub For St. Rita" digital/CDR
- Rik Rue recalls being a collector of "so-called religious pictures", and one day in a religious shop finding one of little-known Saint Rita; the patron saint of impossible causes. "She intrigued me because of her nature, a little known and unusual saint from what I could find out about her, so I thought I'd give her this track and tape."
Recorded 35 years ago, the 1984 tape featured the original colour card on each cover, reproduced here and in full colour on the on-demand CDR. This is the fourth in Shame File Music's Rik Rue Cassette Archive series, all remastered by Shane Fahey.
NOW ONLINE: Various Artists "Artefacts of Australian Experimental Music: 1930-1973 -
Twelve years ago (!) Shame File Music released the "Artefacts of Australian Experimental Music: 1930-1973" CD, bringing to light the secret history of Australian experimental music. This landmark collection is now available to stream/download via Bandcamp. The download includes a PDF of updated liner notes. There is a handful of the original CD left (full-colour digipak with booklet) that can be ordered through the link below or via the Shame File website, but be quick on that one. Copies of Volume 2 double CD are also available.
-
Snacks/Laura Altman & Monika Brooks "Surface Noise Vol. 8" CDR/digital
-
Clinton Green "Young Women of Asia" 7"/digital
New titles on Shame File Mailorder
A ton of new stuff & restocks have come in over the summer, some in very limited quantities:
Tarab - "Housekeeping" CD
-
...originally conceived as a project to finally put to use some of this amassed junk, and then to discard it all once again. It first took shape as an installation work for 8-channel audio, found objects, speakers, transducers, desk, chair and room; presented at Blindside, Melbourne, August 2017. Since then it has slowly shifted itself into this CD. However rather than a documentation of an installation, this iteration has been arranged from the debris collected during the process of making one. Sound was gathered together from various raw audio materials; object manipulation; rehearsals, studio tests and failures; recordings of both installation and de-installation; the final composition files ; recordings of the installation in-situ; the empty gallery space; the Nicholas Building (the home of Blindside); a performance made with Clinton Green enacted to close the installation. All collected materials were then cut up, tumbled around and de-arranged into the current form it finds itself in here.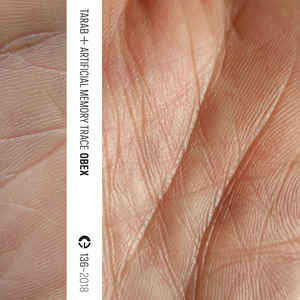 Tarab/Artificial Memory Trace
- "Obex" cassette -
How seriously should it be taken? Probably quite seriously. Nothing about Obex intimates an explicitly light-hearted release, an album geared towards 'fun'. And yet amidst the dark, ponderous clanks and rumbles, something about Obex suggests an entertaining aspect, and also hints that this is art for the love of art over and above any grander narrative. And, context / no context, this is an interesting, textured work, rich in texture and dynamics.
- Aural Aggravation. Cassette includes download code.
**Two earlier Tarab
titles available on the catalogue, too**
A chunk of Club Sound Witches'
(Matt Earle and Nicola Morton) strange, strange back catalogue. Only a few copies of each available, so be quick:
Club Sound Witches "bdtd155" CDR
- Lo fi industrial synth grinds to a near half life before revving up again. Perhaps a voice warbles deep back in the mix? Half-dead-battery-power-electronics.
Club Sound Witches "CSW (bdtd165)" CDR
- Picture the aftermath of a dance party. A deserted dance floor, sticky with spilt drinks and vomit. Musical automata whirr occasionally to life and emit random beats. A figure is curled up in the corner, rocking back and forth, murmuring torch songs into a mic. A stunning, unique album.
Club Sound Witches "bdtd172" CDR
- A relatively more maximalist, industrial approach by CSW, with a denser array of sound present, but still ultimately broken and creating an impression of technology breaking down until it becomes almost organic.
Club Sound Witches "bdtd208" CDR
- Nearly-regular beats? Barely anything there, though. The sonic artefacts – reverb, bottom-end distortion – become just as important. Maybe a voice deep in the mix, or is it just the wind? Nothing is ever clear with CSW, but they are never more compelling than here.
Club Sound Witches "bdtd227" cassette
- Ultra minimal not-quite-right beats, pulses and whirring malfunctions on the A side. Slow percussive wind-down-running-out-of-batteries jam on the B-side. From 2016, issued on upcycled cassette.
Tchake "Both and Net" CD
– Electroacoustic duo of Michael McNab (percussion) and Josten Myburgh (computer), with guitarist James Feakes guesting on the second of two tracks. The music is unsettled, sometimes landing upon something like resolution or stasis, but ultimately untrusting of false resolutions and narratives, searching and making its own statements in the moment. The timbres of the electro and the acoustic both jar and merge in a manner that's of constant interest for the listener. Statements are made, then withdrawn; questions formulated, but not put. A sonic riddle with subtle rewards.
Jamie Fielding "Notes from the Underground" 3CD
– Comprehensive 3 disc set with extensive booklet covering the live and studio output of the late synth maestro/pianist/composer. Covering work from 1981-92, a range of solo works and collaborations are included, across multiple musical forms and genres, from jazz to industrial to synth noise and free improvisation. This vast collection also includes Fielding's many collaborations with a who's who of 1980s experimental and improv royalty, including Rik Rue and Jim Denley (Mind/Body/Split) Michael Sheridan, Allan Browne, and many more.
**We also have copies of Fielding's classic "Extinkt" album on gatefold LP or CD**
Rhys Mottley "Parasite" CD
– Mottley crouches above his acoustic guitar bowing, scraping and plucking with numerous and disparate objects to mute, distort, activate and stop. In "Parasite" Rhys Mottley expertly adapts and exploits his host instrument for its sonic resources, or perhaps it is his guitar which has insinuated itself into his body to feed on his imagination, spirit, creativity and to utilise his motoric dexterity.
Chris Mann "The Rationales" booklet
-
An Australian is someone who when asked Can you play the piano? says Dunno I never tried.
Text version of the work recorded by Mann and released on NMATAPES 5.
Sage Pbbbt/Erin K. Taylor "MPavillion" CDR
– Recorded live at the titular location in February 2018, this astounding first meeting evokes a ceremonial atmosphere of Taylor's minimal percussion and drones that provide the space for Pbbbt's other-worldly extended vocals to manifest. Limited edition of 33 numbered copies.
David Palliser "Soot" CDR
– Four solos of freely improvised alto saxophone, with added instruments and looping on the final live track. Limited edition of 44 numbered copies, housed in a beautiful full colour foldout sleeve.
Brigid Burke & Rainer Linz "Intersect" CD
– Duo exploring live interactive computer technologies with electronics and clarinet.
Rainer Linz "Two Pieces for Radio" CD
– Linz's theatrical compositions for radio deconstruct classical forms such as opera and string quartet with a sandpaper-dry humour. The first piece, 'The Opera "Crossed Purposes"' features a first in Australian operatic history: the naming of an ASIO agent. This CD was issued without a cover and comes in a paper sleeve.
Pauline Oliveros restocks:
Pauline Oliveros "No Mo" CD
- "In the summer of 1966 I worked in the classical Electronic Music Studio at the University of Toronto for six weeks. The system I used to create No Mo and Something Else consisted of Layfette tone generators, noise source and tape delay. In the Fall of 1966 I was the newly appointed director of the Mills Tape Music Center formerly the San Francisco Tape Music Center and now the Center for Contemporary Music at Mills College. Bog Road was created at the Mills Tape Music Center in the Summer of 1967 with the Buchla Series 100 Box. The studio overlooked a pond where frogs were singing a chorus that inspired a series of Bog pieces." - Pauline Oliveros.
Pauline Oliveros "Ghostdance" CD -
The long awaited soundtrack of the Ghostdance music and dance collaboration between Oliveros and Paula Josa-Jones. The Expanded Instrument System (EIS) used in this recording is an evolving electronic sound processing environment dedicated to providing improvising musicians control over various interesting parameters of electronic transformation of their acoustic instruments. Performers each have their own setup which includes their delay and ambience processors, microphones, signal routing and mixing, and a computer which translates and displays control information from foot pedals and switches."
Pauline Oliveros "Primordial/Lift" CD -
Primordial/Lift is based on information concerning the shift in the resonant frequency of the earth from 7.8hz to 13hz. The resonant frequency of the earth was measured as 7.8hz in 1960 and by 1994 the measurement was at 8.6hz and it will rise to 13hz by 2010. At the same time the magnetic fields of the earth are diminishing in strength towards zero point. By the time that 13hz is established as the resonant frequency the magnetic fields will reverse their polarity - North will become South and vice versa. The acceleration from 7.8hz to 13hz of the earth's resonant frequency is represented in Primordial/Lift by a low frequency oscillator.
Pauline Oliveros/Miya Masaoka "Accordion Koto" CD -
"Though an unlikely combination - accordion and koto - it is not so much about the instruments as about the energies of the music that comes from the intensity of listening -- listening as close to 'now' as possible. We know that our consciousness is delayed by a fraction of a second that the brain interprets as now -- however the body is instantaneous in its perception. Thus the phenomena [sic] of playing and becoming conscious of what has played - been played - is a continually surprising experience in such improvisation." - Pauline Oliveros