The Rik Rue Cassette Archive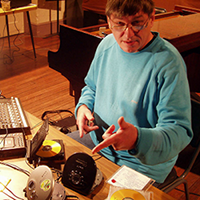 For composer/audio collagist Rik Rue, environmental sounds have always provided abstract and subconscious pleasure and an inner understanding of the physical. Since the early 1980's, he has been involved in composing with environmental and found sounds. Utilising analogue and digital technology in a variety of recording techniques through a wide range of natural settings from bushland to urban areas, he transforms these recordings into soundscapes that have eventuated into radiophonic works, sound installation compositions and live performances. Rik Rue has also used 'live tape' and digital manipulations in various performance projects with Jon Rose, Mind/Body/Split, Social Interiors (with Shane Fahey) and as a member of the contemporary Australian music group, Machine For Making Sense, using sampling and the recording medium itself as an instrument.
Rue released numerous cassettes on his Pedestrian Tapes label throughout the 1980s and 1990s, now mostly unavailable. Following on from the successful Ernie Althoff Cassette Archive, Shame File Music presents here online reissues of some of Rue's cassettes, complete with cover art and remastered by Rue's longtime collaborator Shane Fahey, all for free download/streaming.
So far we have:
Rik Rue & Shane Fahey - Murmurs (originally released on cassette 1986):
The recordings on this cassette were sourced from field recordings made along the New South Wales coast, including rainforests, hinterlands, coastal bays and creek beds. Murmurs was the second collaborative release between Rue and Fahey, who had combined previously under the moniker of Social Interiors (self-titled cassette released on Rue's Pedestrian Tapes, 1985); although Murmurs was not specifically credited to Social Interiors, Fahey very much thinks of it as a Social Interiors release.
Rik Rue - The Pre Glasnost Tapes (originally released on cassette 1991):
Whilst visiting a shop in Melbourne specialising in Russian paraphrenalia, Rue came across a book of Soviet-era flexidiscs, containing Soviet propaganda recordings (Western music was hard to come by in the post WWII Soviet Union, although bootlegs flexidiscs of jazz and rock music pressed onto discarded medical x-rays, colloquially known 'ribs' or 'bones', were sort-after on the black market from the late 1940s to the 1960s). Rue used these flexidiscs as source material for 'The Pre Glasnost Tapes'. Rue overlayed and juxtaposed patriotic workers songs with orchestral music, spoken Russian and natural sounds, altering pitch and timbre by adjusting record speed.
Originally released on Rue's Pedestrian Tapes in 1991, 'The Pre Glasnost Tapes' has been reissued on several different occasions (on tape and CDR) with different covers; the one used here Rue views as the definitive cover.
Stream/download for free from
http://ShameFileMusic.com , or order your CDR version.
Dale Gorkinkel - Switches & Hose LP Debut major solo release from Melbourne-based multi-instrumentalist and instrument builder lovingly documents recent contraptions made from materials such as foot pumps, irrigation hose, vibraphones, bird cages, and modified trumpets. Highly recommended. Limited edition of 300 hand-numbered copies.


Jim Denley/Cor Fuhler "Truancy" LP/CD Jim Denley and Dutch musician Cor Fuhler first met in the early 1990s and Cor's frequent visits to Australia over the years gave them the opportunity to occasionally play. In 2012 Cor moved to Sydney, allowing them to ramp up the duo — this is their first release together.
Frans de Waard writing in Vital Weekly says:
"It's a great record in which we recognise the acoustic alto saxophone by Denley and the acoustic piano of Fuhler... In the early bit of 'Wag' it sounds like they use electronics to generate a mild wall of feedback... It's hard to believe that it's just these two instruments. Of the two pieces 'Wag' is the more intense... Even when it paces down it still has that menacing quality of a noise piece. 'Skive' is perhaps quieter and subdued, but here too Denley plays some shrieking notes.... But 'Skive' has more air, more space to breath and both of these pieces, although different, complement each other very well, and offer a truly rich album of improvised music."
LP is limited to 300 hand-numbered copies.
Anonymous - cassette A leading, longtime noisician returns to recording via this strictly anonymous 90 minute tape, consisting of lowercase noise, field recording, turntable damage and more. Very limited copies.
Jon Rose "rosenberg 3.0: not violin music" (paperback book + CD) A pseudonymous violin arcana compiled by Jon Rose from an extremely diverse array of musicians, fans and eccentrics, all deriving from the activities of the late lamented virtuoso Dr Johannes Rosenberg. A satirical yet thought-provoking cultural critique of music in the 21st century (comes with audio CD of Rosenberg performances from 1981).
NMA Magazine - last copies of some issues (ever!)
For the past few years, Shame File Music has been selling the remaining copies of editor/publisher, Rainer Linz's stocks of his seminal NMA magazine, which covered new music in Australia throughout the 1989s to the early 1990s. Some issues have completely sold out, and with what remains we are beginning to get to absolute last few copies. For instance, we only have one copy left of NMA#2, #7 & #8, so you really need to get in quick to get these in particular. The NMATAPES, compilations with accompanied each issue, were reissued online and on CDR by Shame File in 2006 and are still available from http://ShameFIleMusic.com/
This Friday night in Melbourne - THIS Ensemble

Ren Walter's large form improvising carnival of musicians, dancers, actors, puppeteers and bits of life in between, returns to Cross Street, seeking something.

Friday 12 December, 2014 - 8:30pm
Cross Street (Moreland City Band Hall), Cross Street, East Brunswick.
Shame File Music: Australian experimental and beyond...
http://ShameFIleMusic.com